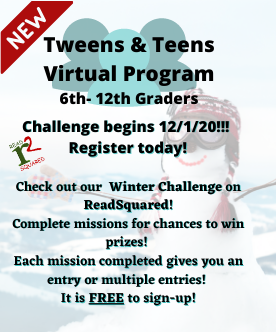 Join in the fun and go to ReadSquared!
Tweens & Teens Winter Challenge
Welcome Tweens and Teens to our FIRST Winter Challenge!
Complete Missions and Read books to get entries into win one of the Prize Baskets!
Our Winter Challenge begins 12/1/20 and ends on 3/5/21!
Missions include: Participating in our Teens Read Book Club, Reading, Writing, Taking Pictures, Going on Virtual Field Trips and so much more! Sign-up today to check it out and get started!
A good place to start: head over to Missions & cast your Vote for our Teens Read Book Club book that we will be reading!
If you have any questions, please email Ms. Cassandra @ si.cassandra@4cls.org