---
Due to Covid, at this time all programs are virtual. Look under our "Virtual Programs" menu option for our large selection of virtual programs!
Calendar of Events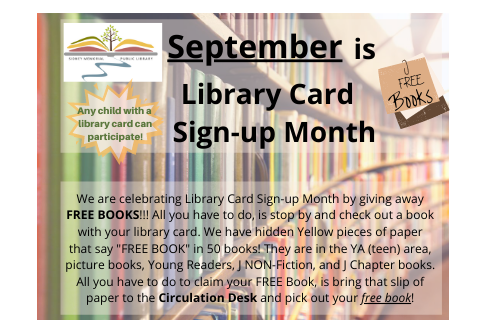 Click here for our September calendar and here for more details.
Click here for our October calendar and here for more details.
Free Books for Kids
Dolly Parton's Imagination Library:
Enroll your child in Dolly Parton's Imagination Library and they will receive a FREE book in the mail each month, every month, until their fifth birthday!
Register at www.imaginationlibrary.com.
Booster Books 2020-2021:
Do you have a child who is 3 or 4 years old? Do you live in the Sidney School District? Fill out a Booster Books application to receive free, brand new books in the mail every other month. Click here to download the application.
Children's Programs
Afterschool Explorers
Thursdays from 3:30-4:30pm, October through June, in the PCC. This program is for kids ages 7-12. Each week we will explore a different topic including science experiments, arts & crafts, technology, and more.
Creative Kids is the first Friday of the month, 10:00-11:00 am in the children's area of the library. This program is for preschoolers age 2-4 and their caregiver to get creative and explore different art forms with a focus on Process Art. What is Process Art? Process Art is all about the experience children have while they're creating, not about the end product – allowing them room to be themselves, make their own decisions, and just have fun and create! We will provide smocks but we also encourage children to wear clothes that are okay to get messy just in case!
Kids Club is for kids ages 5 and up who are interested in joining us for games, crafts, Minecraft, and more. New members are always welcome and we will meet every Tuesday from 3 – 5pm. This club meets in the Public Computing Center.
Lego Time is every Wednesday from 3 – 5pm. Join others as we have fun building with the library's LEGO collection. Thanks to the Friends of the Libraries for purchasing them! We display your LEGO creations in the case in the children's room for all to see until the next LEGO time. This is for all ages – preschool through school age.
Music for Munchkins will be at 11:00 am on the first and third Tuesdays of the month in our Smart Community Room. This program is for children up to age 5. We'll have fun with musical instruments, songs, movement activities, and finish off with some parachute play.
Preschool Tablet Time is a program for ages 2-5 at 11:00 am on the second and fourth Tuesdays of the month in the children's area of the library.
This program is for children up to age 5. We'll have fun playing on our iPads and on educational websites for children.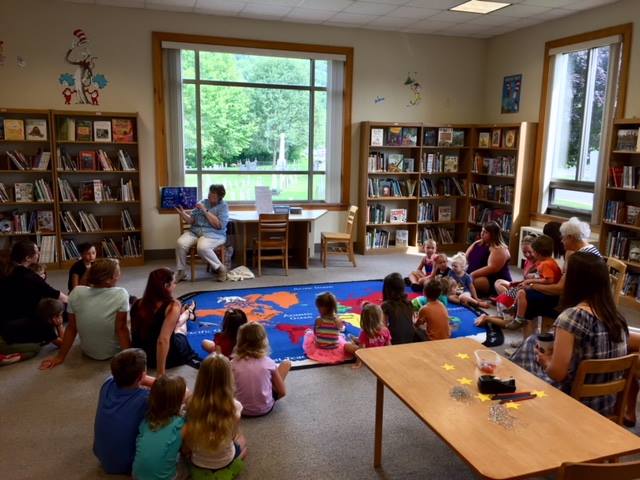 Story Time Programs
Baby Storytime is held on Thursdays at 11:00 am. This story time is for babies 0-15 months and their caregiver. Join us for nursery rhymes, simple stories, and songs.This program lasts 15-20 minutes.
Story Time is offered on Tuesdays and Thursdays at 10:00 am. All ages welcome. Join us for songs and stories, and on Tuesdays a themed craft or activity follows. Program lasts 30-45 minutes.
*We do not have a sign up for these programs – just show up. All of our story times require the parent/caregiver to be present. Moms, dads, and other caregivers have enjoyed the experience and we encourage you to stop by.
Programs for Middle & High School Students
Teen Nights are held the 1st and 3rd Wednesday from 6:00 – 7:00 pm in the PCC (downstairs). We do crafts, DIY's, cooking classes, and more! Check out the monthly Kids & Teens calendar for each month's events. Pizza served at every meeting. Special teen activities will be held throughout the summer! Stay tuned for a complete schedule.
Kids/Teens
Do you want to receive the Kids & Teens Newsletter in your email each month? Click here to sign up and be sure to select the "Kids and Teens Newsletter" box.
Parent/Caregivers Resources
NYS Parenting Portal
A parenting resource by The Council on Children and Families, this portal provides parents and caregivers with multiple tips, tools and resources to enhance the roles of parent and caregiver.
Family Literacy Calendar
DayByDayNY early literacy website for young children and their families. Each day you will find an interactive eBook, songs, videos, poems, and activities, all focused around promoting early literacy. Also includes additional resources for literacy and health information, arts & crafts, public library locator, and map of museums in New York State.