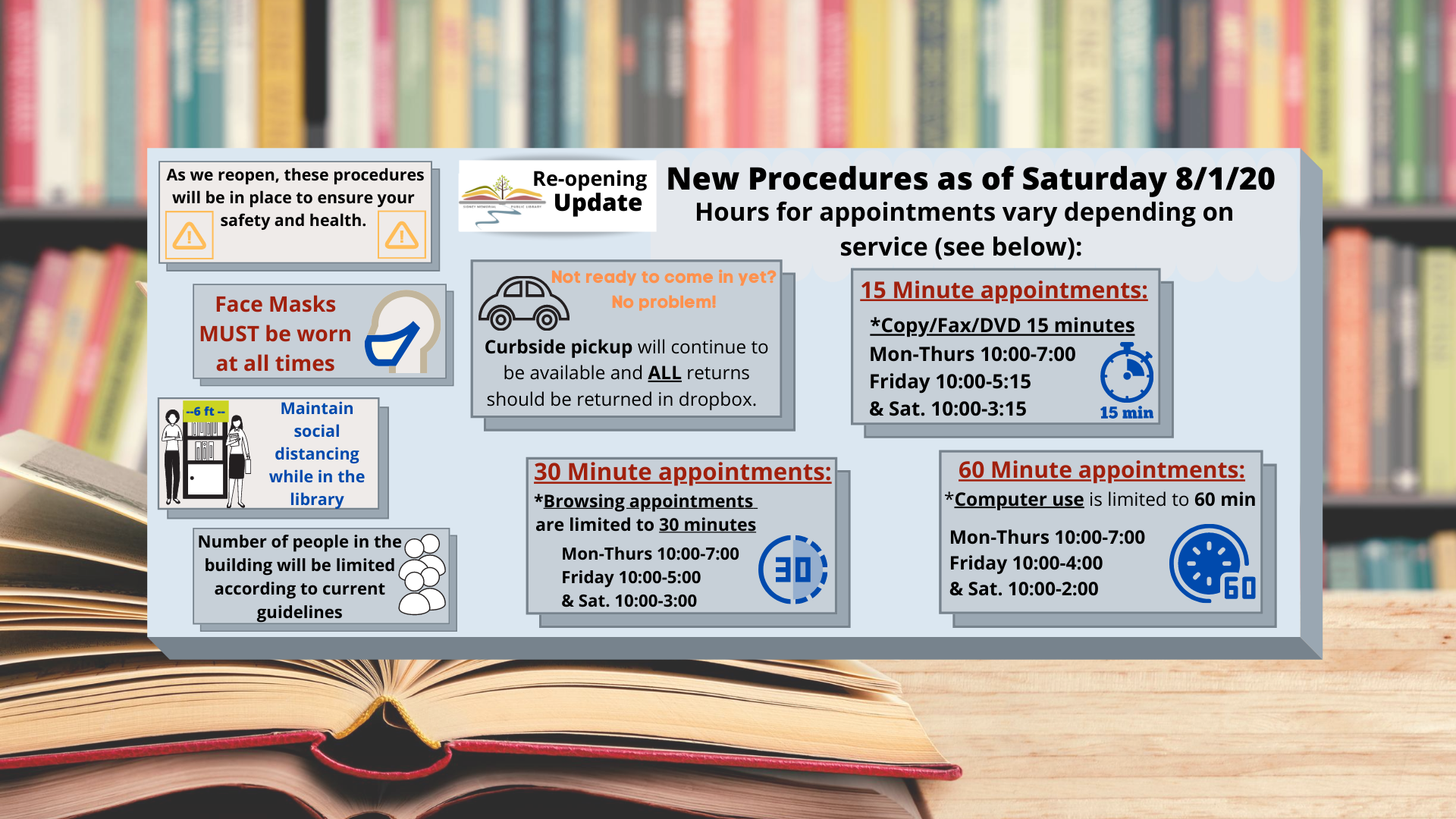 Curbside Pick-Up Service
Sidney Memorial Public Library Curbside Pickup Guide for Patrons: Hours for pickup in Sidney are Monday through Thursday – 10:00 am – 6:45 pm Fridays – 10:00 am – 4:45 pm Saturdays – 10:00 – 2:45 pm. Sidney Center hours are Tuesday & Thursday 3:45-7:00 and Wednesday & Saturday 10:15-12:00. Masonville Curbside is available Tuesday & Wednesday 3:45-6:30, Friday 1:15-4:30, and Saturday 10:15-1:30. Please make sure to wear a mask during the Curbside Pickup process. Each patron is limited to 10 items on their library card.
Step 1: Place your holds either via the online catalog or by calling the library. If you call the library, we will need your library barcode to process the hold. We are limiting pickup to 10 items.
Step 2: Once the holds are available for pickup, a staff member will call you and schedule a time for you to pick up your holds. We will schedule up to 3 patrons during each 15-minute block. • You MUST be at the library within that 15-minute window or you will need to reschedule. • If you have items to return, you MUST return them in the book drop. • Items will be checked out before you arrive. You must have your library card or driver's license when you arrive, and show your ID through the window.
Step 3: Pull into the library parking lot from the Main Street entrance. Put any return items in the Book Drop and then pull forward to the curb where you see the Curbside Pickup sign.
Step 4: A staff member will be waiting by the door for you to arrive. With your window up, please hold your ID or Library Card so that the staff member can check it to make sure you receive the correct bag.
Step 5: Once your ID is verified, your bag will be placed on the curb. Please wait until the staff member has gone back up to the library door, then exit your vehicle and take your bag. Please remember that all returned items will be quarantined for 4 days and will remain on your card during that time. You will not be charged any late fees during that 4-day time period. If you have any questions regarding Curbside Pickup, please call the library at 607-563-1200.
Book Drop, Due Dates and Facebook Page
In-Library Appointments: Starting August 1st, the Sidney Memorial Public Library, and the Sidney Center and Masonville Branches will be open to the public by appointment only.
Sidney Library Appointments call 563-1200:
Browsing appointment times are 30 minutes each Monday through Thursday from 10:00 am to 7:00 pm, Fridays from 10:00 am to 5:00 pm, and Saturdays from 10:00 am to 3:00 pm.
Copy/Fax appointments are 15 minutes each Monday through Thursday 10:00 am to 7:00 pm, Friday 10:00 am to 5:15 pm, and Saturday 10:00 am to 3:15 pm.
Computer appointments are 60 minutes Monday through Thursday 10:00 am to 7:00 pm, Friday 10:00 am to 4:00 pm, and Saturday 10:00 am to 2:00 pm. Call 563-1200 to schedule an appointment.
Sidney Center will be open on Tuesdays and Thursdays from 3:45 until 7:00 pm, and on Wednesdays and Saturdays from 10:15 am until 1:00 pm. Call 369-7500 to schedule an appointment.
Masonville will be open for appointments on Tuesdays and Wednesdays from 3:45 until 6:00 pm, Fridays from 1:15 until 4:00 pm, and Saturdays from 10:15 am until 1:00 pm. Call 265-3330 to schedule an appointment.
We are limiting the number of appointments daily.  Don't forget to check out our Facebook page where we regularly post information about online resources.
Online Registration
You can now register for a library card online. Scroll down on this page to go to the Four County Library System link, www.4cls.org. The card registration link is in the middle of the 4cls homepage. You will be asked to complete the online form, including your name, address and e-mail. After it is submitted, a staff member will create your account and send your card number to you via e-mail. That number can be used to check out e-books, digital audiobooks, digital magazines, and many data bases. Please allow 48 hours for your registration to be completed.